"If you are not yet familiar with this discipleship resource by Dave and Jay, below is a short promo video explaining the book.
It is drawn from stories over 30 years in their discipleship ministry to men. It is a great read for both you and your Timothy, after they have completed OT.
I highly recommend you invest in purchasing and reading it thoroughly. You will see how God changes men to become Christlike".
In His Grace,
Tom Sawyer
"Imitate Me" From Paul to Timothy: The Timeless Model for Spiritual Reproduction
Written by Jay Baker, Dave Rathkamp
Imitate Me is an assemblage of wisdom gained from over 30 years in the real life trenches of one-on-one discipleship of businessmen. Written by veteran disciplemakers Jay Baker and Dave Rathkamp.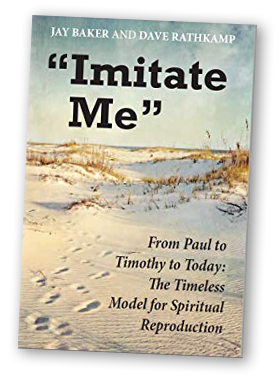 "This book shares with great transparency the broken lives of many men who have allowed God to transform their lives through His Word with the help of their Paul (or mentor) in a one-on-one discipleship relationship. Having been involved in the discipleship process for over twenty years, I see tremendous value and encouragement in sharing certain chapters with my Timothy (or man being mentored) when he is struggling with similar issues. The chapter on "Leadership in the Home" will give my Timothy a perspective he probably has never experienced before."
Randy Beck Estate Planning Attorney
"Even though running a business is often challenging, I find discipling a man one on one very humbling and yet completely rewarding. While it is critical to depend on the Holy Spirit in the disciple process, this book offers great spiritual and practical wisdom. I highly recommend this book to anyone considering one on one discipleship or one that has discipled men for years."
Terry Looper, Founder and CEO Texon LP